feature in 2004:

"When will our corporately embedded BBC finally relent and repent and provide viewers with a TV programme devoted to the environment - to all aspects of eco-innovation and green technology in the UK and around the world? EVUK has of course written to the BBC many times on this - we've even given them(with no consultation fee...) a programme title to run with : "Action Planet"...

(Spookily enough, "The Green Zone" had been another firm favourite of ours - until the US military found other more..er...creative uses for it circa 2003...)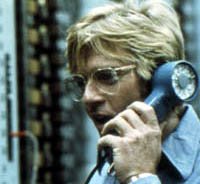 - Robert Redford in "Three Days of the Condor"
"Oil fields! This whole damn thing was about oil !" (See EVUK feature, March 2006)

Against that backdrop, there is every reason, surely, to expect that electric cars and - even greener - electric bikes and scooters will feature in at least one of The Green's 13-episode opening season.
That said, there will inevitably be concerns that the show's Lexus sponsorship and uncritical plugging of plug-less luxury hybrids could again stifle or kill electric car/electric vehicle content.
Email: thegreen@sundancechannel.com
See also:
Eco TV / Verdi TV channel (Italy). Watch live streaming now or view on Hotbird satellite at:
11013 MHZ, 27,500 Ksps, Horizontal or Sky(Italy) channel 906....and ask yourself why British TV is still barren brown Tumbleweed TV...
Note: for all their merits and despite the wishful-thinking ".tv" suffix, Urth.tv and Green.tv - unlike The Green and Eco TV - are not(yet!) genuine TV channels or broadcasters...)

(Would you like to comment on this article? Why not visit Britain's leading - EVUK-linked - EV Discussion, Campaign & Media Watch Groups: Electric Cars UK and Campaign for Battery Electric Vehicles?)
April, 2007
Watch "Who Killed the Electric Car?" report
- with extended excerpts and interviews(Democracy Now, April 13)


Click image - and advance video 40 min 30 secs - for "Who Killed...?" feature. Guests: Chris Paine and Plug In America's Chelsea Sexton
- This excellent, extended report also gives us another opportunity to highlight one key "beyond America" - but illuminating - EV truth that Chris Paine's otherwise magnificent film scarcely touches upon :
namely that if carmakers had ever been genuinely committed to maximizing the popularity and sales of real electric cars they would surely have chosen 5-dollar-a-gallon Europe as their primary target.
Selling and leasing cheap-to-run, performance EV's only in the US is roughly equivalent to selling low-energy fridges only in Alaska.
Toyota, to their credit, fully understood this self-evident truth and did indeed successfully trial the Toyota RAV4 EV in Jersey in the British Channel Islands(see our own "Who Killed the Toyota RAV4 EV?" feature . Unfortunately, even Toyota appear to have drastically underestimated the more or less ferocious and entrenched opposition of the political, automotive and media establishment to real, long-range, high-performance EV's here in Britain and throughout the rest of the EU.
(So - Plug In America - please help us plug in Europe !)
April, 2007
EMN TV - tune in and turn up the volume !
(it's worth it just for the glorious mood music...)
(Postscript/correction: please note amended Hotbird satellite broadcast time below)
Click here to watch latest Youtube'd EMN TV highlights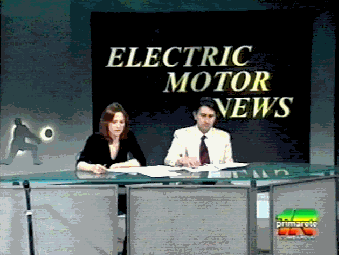 Milan-based Argentinian EV campaigner and activist Marcelo Padin(pictured above) of Electric Motor News has been regularly emailing us of late to tell us about his weekly free-to-view and free-to-air satellite and web TV show EMN TV(browse video archive). Here's his latest bulletin :
"Electric Motor News(EMN TV) is the only Italian TV programme entirely dedicated to green transport. In the 8th issue of Electric Motor News of 2007 we will show the Hybrid Bus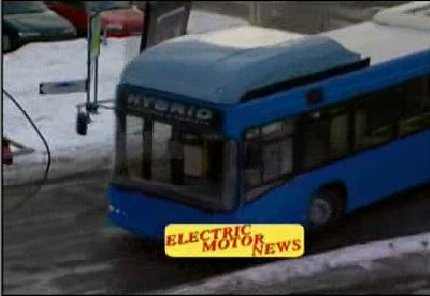 developed by Volvo, the Hydrogen 7 by BMW with words of some manager of the project and the Mazda RX8 Hydrogen, the first car powered by a rotary hydrogen engine.
In the news we examine ideas about pollution problems experienced by different people in various countries and look at German automakers that will be adopting the stop and start system that allow to reduce pollution and save fuel."
And last week we received this:
"In the 7th issue of Electric Motor News of 2007 we will show the Geneva International Auto Show, including an interview with Olivier Matile (Swiss Gas Industry Association) and Susanne Wegmann (Swiss Ecological Vehicles Association) and a special report about the Toyota Hybrid X and Toyota FT HS prototypes."
However, we must correct Marcelo's understatement: never mind Italy - Electric Motor News TV is almost certainly the only TV show on Planet Earth entirely dedicated to green transport(if anyone knows otherwise please get let us know...).
Indeed - never mind green transport shows - we still know of only two year-round TV magazine programmes - German state TV's(ZDF) "Umwelt" (Astra 19, unencrypted, Sun 13.15 CET) and France's encrypted/subscription-only "Ushuaia TV" - in the whole of Europe dedicated to green issues generally - and to the best of our knowledge neither of these shows has ever produced reports focusing on electric or plug-in hybrid vehicle technologies.
In contrast to EMN TV - and like almost all of our corporate media's "environmental" output - even the above-mentioned green TV shows still seem extraordinarily reluctant to move beyond fluffy & fuzzy, flora-, fauna- and food-focused reporting - when what we urgently need is a steady stream of no-holds-barred, detailed, brass tacks, solutions-focused advice, news, information, innnovation - and all-round eco inspiration.
Or to put it another way, you only have to flip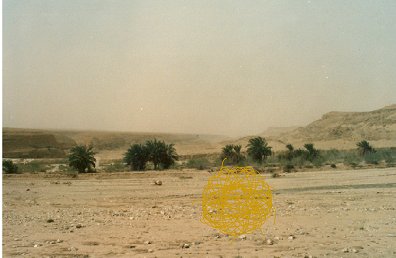 through the TV listings of the thickest, densest TV guide you can lay your hands on anywhere in the world to see that what we still have is the same old barren landscape of almost total TV Tumbleweed.
Against that depressing backdrop, Electric Motor News TV stands out as a lone green shoot well worth

cultivating and, although the show may well be entirely in Italian - and despite an annual production budget that would fail to fuel Top Gear for five seconds - there is, we believe, a good chance that this pioneering weekly programme could expand and grow and, even more importantly, inspire similar programmes elsewhere in English - provided of course TV/EV audiences tune in, help spread the word and generally turn up the volume.

At the moment it also has to be said that the title "Electric Motor News TV" is something of a misnomer since - so far - pure electric and plug-in electric vehicles have only occasionally featured in the show's line-up - not least due to the threadbare supply of newsworthy EV video material here in Europe.

And that, dear EVUK'ers, is precisely where YOU can help!
- If you should possess or come upon any newsworthy, relatively recent EV/ZEV/PHEV-related video material that you believe could be of interest and benefit to a Europe-wide(and far beyond - see Hotbird footprint) satellite TV and global web TV audience please contact Marcelo and team at: electricmotornews@gmail.com

++STOP PRESS++
Electric Motorbikes and (Go-)Karts: EMN TV Edition 31: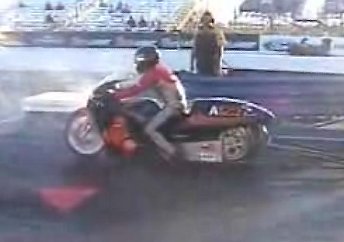 - the Killacyle's record-breaking run(Youtube video) earlier this week - 155.78 mph and 0-60 in 1.5 secs using A123Systems fast-charge Li-ion - reminds us of one of our favourite EMN TV shows to date, edition 31, with Marcelo Padin reporting trackside on electric m'cycle and kart racing .
A visual (and musical) feast.

EMN TV - reception details:

Watch online at Antenna6 TV. Mondays at 12.10 pm, Tues 18.00. Scheduling is subject to change - check Mon-Sun schedules here.

Video archive of previous shows can be viewed here.

Watch via Hotbird satellite's free-to-view & free-to-air TAXI TV channel(11,541 MHz, 22,000 Ksps, Vertical) Saturdays at 14.45(approx!) CET/13.45 UK.
(Sadly, the above satellite reception details will mean little to a largely satellite-illiterate British population - most of whom have been easily duped over the past 15 years or so into believing that, by definition, "satellite TV = Sky TV" - and that satellite TV must be viewed via Sky equipment, Sky platforms and with the "permisssion" of Murdoch's News International/Corps press-gang and assorted gatekeepers...Click here for the "Sky-free" facts/truth ! )
March, 2007
Low cost lithium ebikes hit UK streets Plus : Q & A with Synergie Ebikes' Bob Watson
- and more price-Breaking Li-ion News from Eco Bike's Dave Ebden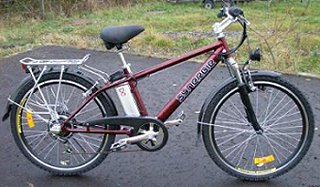 Synergie's £499 Mistral - is this the lowest-priced li-ion ebike in Britain ?

Following our "Li-ion ebikes are cheaper in Japan" piece last November we were obviously pleased - and keen to probe further - when Synergie Ebikes contacted us earlier this month with the following heads-up:

"We read with interest your story on e-bikes and cost-effective L-ion units comparing Japan and the UK. We are now selling good quality bikes with L-ion 36v 10Ah battery packs at less than 500 and sometimes on offer at 400. Please check out ebay and our lightweight li-ion Mistral ebike.

..so let the probing begin:
Q & A with Synergie Ebikes' Bob Watson :

EVUK: A Google search on "Synergie Mistral" suggests that there is as yet little awareness of the Mistral li-ion ebike - but we have found one, perhaps typical potential customer, a lead-acid ebike owner who likes the look of the Mistral and is keen to upgrade but expresses what must be a common concern ie. that it just seems too good to be true - especially at this price.
What would you say to allay those concerns?

BW: The first thing to say about how we do business is that we are buying in bulk and we sell loads of bikes through the internet, primarily on eBay. This gives us a 24/7 sales outlet without having the overheads of one although it has to be said that doing business through eBay isn't particularly cheap.

As to how we can manage to sell the bikes at such a low price it's all due to volumes and getting the bike quality right. Buying from China is a tortuous and problematic business because even if you have had samples shipped over, there is no guarantee that the container loads of bikes are of the same standard as the sample. Of course, having paid up front, the worst case is that you might not even get the container at all, so you're just thankful that even something arrived!
However, having a load of bikes which you are continually getting back for repairs or refund is the death knell of the kind of business we do. So, the trick is to find good manufacturers who are consistent with the standard of bike.
To put it bluntly, when we sell a bike we don't want to see it again!

To help us achieve this, with lower priced bikes we do a sample check of 1 in 5 prior to shipping simply because opening up a box, assembling a bike and then testing it is a time-consuming and, hence, expensive business.. However, on higher priced bikes such as the Mistral(EVUK Ed: £499 = high price?!) we unpack and test every unit. If a customer is paying £499 (or sometimes less) they're getting a bargain - comparatively speaking - but at that price point we can still afford to do it.and I believe it's the right thing to do for everyone's sake.

EVUK: Obviously when purchasing from an entirely online business, customers would expect to have to compromise on aftersales service.
But what can customers do if they do have problems?

BW: The first thing to say to that question is that we have dedicated admin people and technicians here on a Monday to Friday working day basis so the customer can usually get someone to talk to fairly readily.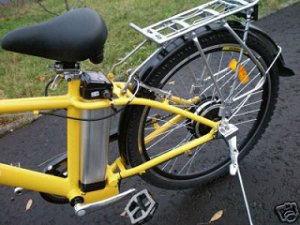 Depending upon the problem the technicians have the freedom to either talk the customer through fixing the problem themselves, supply a part to the customer if they are able to fit it themselves, get the customer to ship the bike back to us or even, if it's an out of box failure (something pretty rare), we'll pick the bike up and deliver a new one or offer a refund. Our feedback on eBay really tells you how good we are - although you will always get someone who you can never please no matter how much you do for them!

One problem we do have is how to advise the potential customer that the technology and fit and finish on a 299 bike is not going to be the same as on a 499 bike! It's a problem at a distance because you have to do everything by photographs and textual description and it's not that easy to make someone aware of what the difference is between 24Kg and 40Kg. In some instances, a 40Kg lead-acid bike is perfectly adequate for their needs but, in others, a lighter bike is definitely required.
Our cheaper bikes are usually steel framed, lead acid based and heavy and the electrics and controllers are not as well put together as, for instance, the Li-ion bikes.
So, our primary focus at the moment is getting the manufacturing quality on these bikes improved to the point where they may still be low tech but are as good as all the rest. This is not as easy as it may sound. Labour is cheap in China, proper quality control on electric bikes was virtually unknown until importers like us got closely involved with suppliers and many companies still have a "that'll do" mentality. Nowadays, of course, we know who these companies are and are careful to avoid them ...

EVUK: We've so far found just one retail outlet - The Electric Transport Shop" of Cambridge(see Base Notes below) that advertises Synergie Ebikes - including the Mistral.
So are there any other retail outlets(or franchises) in Britain or Europe currently stocking Synergie bikes - in particular the Li-ion Mistral ?
And indeed - are you taking enquiries from potential franchisees?

BW: Originally we had the idea of selling through established bike shops but that met with little success as I don't think electric bikes really fitted in with the perceived mountain bike lifestyle.(EVUK Ed: - a very different story in Japan...) So, we advertised for franchisees through ebay and got some interest. To become a franchisee you needed only to buy three bikes but, even with that low entry point, after some months we only had insufficient franchisees to generate enough sales so direct marketing through eBay continues to this day. In hindsight, having any franchisees was possibly a mistake because bikes are sold to them at a discount of course and we then find that the customer, instead of buying locally, still buys from us through eBay. There is definitely some strange psychology going on there ...

Base Notes:
1) The Electric Transport Shop. Although pleased with the Synergie Mistral and with the company's aftersales service, company co-founder and Cambridge graduate Eddie Kehoe admits that most customers are still going with what they know - NiMH and even lead acid - rather than li-ion :
"A year from now the Mistral bike may well have proven itself to be just as reliable and durable as our tried and tested NiMH and other li-ion bikes - only time will tell."
He also suggested we/you check out their £590, very low weight(22 kg) lithium polymer powered bikes from Powacycle(not to be confused with Powabyke) - the Salisbury LPX(pictured)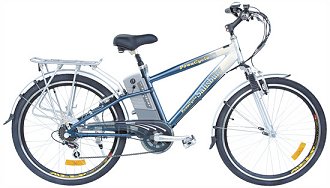 and Winsdor LPX. All of their bikes can be ordered online and delivered anywhere in the UK.

Read Salisbury ebike 'Mr & Mrs' review: stereotypical cycling purist(like James Daley perhaps?) and wife take Powacyle's Salisbury ebike for a spin - albeit the older 3kg heavier NiMH version - and are thoroughly electrified by the experience.

2)The Independent's 'Cycling Column'(March 6). Whether pushbikes or ebikes: high prices by no means always guarantee high quality and durability: Columnist James Daley, a 23-mile-a-day bicycling commuter - finds out the hard way that his £500 (non-electric) mountainbike is only marginally more robust than his old 100 bike:
"My first 100 mountain bike lasted through about two months of commuting before it collapsed. But my latest bike would retail for something in the region of £500 new, and it is on its last legs only three months since I took it in for its last full service."

3) ++ STOP PRESS ++
We have also been contacted this week by our old friends at Eco Bike who tell us that they are about to launch the Eco 640 (below) - a (relatively) low-cost(£699), lighter, re-engineered and revamped li-ion version of their best-selling Hurricane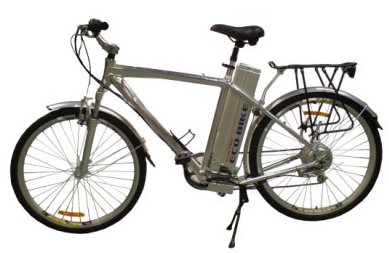 and Tornado ebikes. They also tell us that London's Royal Parks Police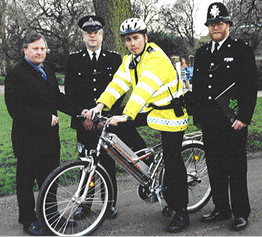 (inset - see EVUK report, Feb 2002) who were originally supplied with a lead-acid Hurricane ebike 5 years ago have since been upgraded to an alu-framed NiMH Eco Bike Tornado which will in turn soon be getting a li-ion makeover.
As mentioned in earlier reports, Eco Bike have been designing, improving and importing electric bikes from China for more than 7 years and before that were heavily involved in racing and (re)constructing motocross/scrambling bikes. They prefer to use the term 'heavy-duty' rather than 'heavy' to describe this rock-solid machine which, they tell us, is also currently being put through its paces by a "major police authority" in the S.W. of England...
February, 2007
79th Oscars - roll out the green carpet

- but will Hanks be driving the eBox(photo) ?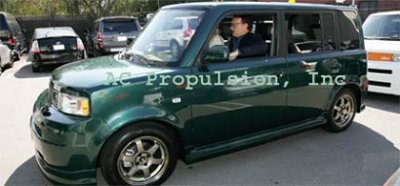 Hanks's eBox would be the greenest BIG car at the Oscars...(re: Hanks in 'BIG' car - sorry, but we've already worked the 'Green Mile'/Electric Car-not-Chair angle to death in earlier Hanks/EV reports! )

of the eBox - the Tesla Roadster - will be there and - thanks to Global Green USA - a long cavalcade of green cars and limos will also be pulling up at the red carpet on Sunday.
Unfortunately, AC Propulsion(remember: there would be no Tesla Roadster were it not for ACP's pioneering Tzero...) tell us that they don't know whether Tom Hanks, who is a member of the Academy's Board of Governors and will be presenting an Oscar this year, will be rolling up in what is undoubtedly the greenest family-sized car on the planet - ie. the eBox(a converted Toyota Scion xB - total cost circa $70,000) that he took delivery of last week(see AC Propulsion report and eBox/Hanks photo gallery)
Watch Global Green USA pre-Oscar green carpet party videos:
ABC News at Global Green USA pre-Oscar Party - includes brief Tesla test-drive
Orlando Bloom at Global Green USA pre-Oscar Party(Youtube)
Assorted EV's and plug-ins at Global Green USA pre-Oscar Party(Youtube)
Also: Watch EVWorld Jan '07 AC Propulsion/eBox interview in which President and CEO Tom Gage reveals, among other things, that the company is working hard to dramatically cut the production cost and sell price of the eBox and future ACP EV's.
February, 2007
Make Green Pay(Watch CNBC Davos video)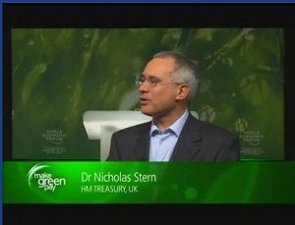 Making Green Pay: Sir Nicholas Stern argues in favour of a global carbon tax
This is without doubt one of the most outstanding environmental/business debates ever broadcast by a major TV network - let's hope CNBC(and parent company GE) will sustain this full-on commitment to New Green Economics ...
James Rogers of Duke Energy(US) gets things off to a stupendous start(Part 1) with the following electrifying assertion - the likes of which no CEO of any major British or European company would ever dare make(at least - not in public !) :
"My aspiration for the people of the world is that we can drive our cars without oil. I believe that electricity is the key to that future."
What a pity, though, that Rogers then goes on to argue that nuclear energy and 'cleaner' coal must also play a central role. Fortunately most of the assembled audience - comprised of exceptionally well-informed, environmental and energy-related business experts and economists - disagree strongly with the latter assertion and go on to vote overwhelmingly against the nuclear and coal option.
Sir Nicholas Stern, author of the Stern review, argues(Part 5 and Part 6) against the motion that "A global carbon tax would do more harm than good" . According to Sir Nicholas, companies must face the full social cost of their actions and a common global carbon price, he believes, would be the most efficient way of achieving that end.
Watch CNBC's 'Make Green Pay': Part 1, 2, 3, 4, 5, 6.
February, 2007
500 long-range(112 miles), fast(62 mph) TH!NK EVs promised by summer 2007(Norway Post)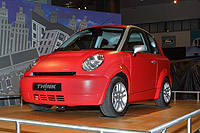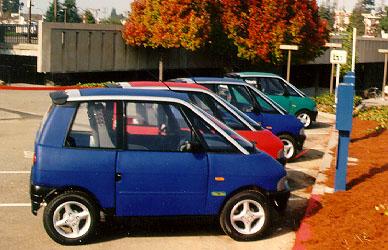 Yes - the epic, stop-start TH!NK City EV saga continues: it began life of course as the charmless, no-frills, slow and short-range Pivco "Citi" circa 1995 and was later bought up, cancelled and sold on by Ford to a Swiss company that also finally threw in the towel in 2006.
In other words, well believe the latest "Boy Cried EV" announcement when we see it...!
And lets hope - if and when the new, new re-thought TH!NK 2-seater does roll off the production line this summer - that the final product will look even less like the original upturned PIVCO bathtub(above right) and far more like the restyled version that was so confidently presented for the US market in LA in 2003(pictured above left). (See EVUK August 2003 article "TH!NK confirms new-look, new range City EV")
...Time to TH!NK out of the 2-seat box?
It remains as true as it ever was that the overwhelming majority of would-be EV-owners(here in Europe at least) dont actually want 2-seater City/Citi cars and - at the other extreme - certainly cannot afford high-performance Lotus-Tesla supercars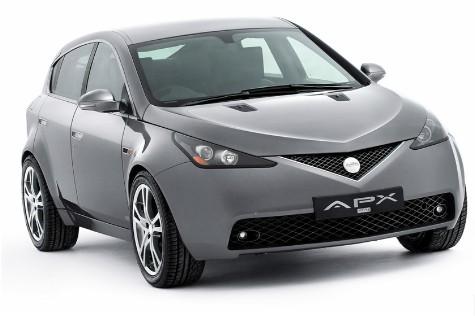 or Lotus-Zap SUV crossovers(click image right): at this point only Global Village Transport(GVT) here in the UK appear 100% committed to plugging that chasm-like gap in the market(weve all seen the film - got the "Who Killed..." T-shirt...so lets have the real merchandise now already!) for a reasonably-priced, reasonably well-equipped, reasonably stylish 4-adult EV for Every(wo)man - a saloon/sedan, compact or mini-MPV - with decent range and top speed.(Note: In our most recent correspondence - in November - GVTs Professor Tony Stevens assured us that their highly ambitious project was still very much on course - if a little behind schedule.)
Related links:
EV Guide - Norways leading EV campaign/info site.
January, 2007
Plug-ins & EVs need not burden grid
- the consensus goes global(US, UK...and NZ!)
- Could plug-ins and EVs in fact serve as a major renewable energy catalyst - a key driver of decentralised clean micro-power?
- Plus(EVUK exclusive): Green Tomato plug-in taxi - an update
- Zytek Smart ForFour plug-in - Q&A with marketing director Steve Tremble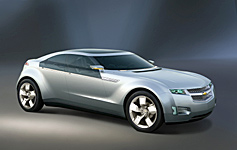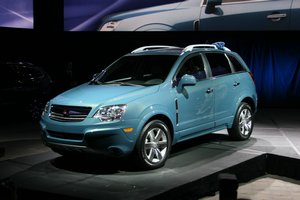 The power to drive a green revolution? GMs Chevrolet Volt and 2008 Saturn Vue plug-in hybrids
GMs historic Detroit volte-face could hardly be better timed - the following four reports, TV newsflash and book all point in the same direction:
1) US Department of Environment(DOE): "Plug-In Nation a Possibility"
Excerpt:
"A soon-to-be-published Department of Energy study reveals that, simply by taking advantage of under-utilized, off-peak energy production from existing power-generation capacity, we could fuel 84 percent of our 220 million U.S. vehicles for the daily commute if they were plug-in hybrids (PHEVs) - vehicles that would allow drivers to use only electric power for short distances of 50 miles or less, and a mix of gasoline and electricity for longer distances.
According to a preliminary release, the study looks at the effects of plug-in hybrids on foreign oil imports, the environment, electric utilities, and consumers, and claims to be the first comprehensive review of the impact of a high market penetration of PHEVs, which should easily have enough electric-mode driving range to do the average Americans commute of 33 miles without using gasoline. "
2) MIT Technology Review: "How Plug-In Hybrids Will Save the Grid"
Excerpt:
"But what many experts are excited about now is a concept called "vehicle-to-grid," often abbreviated V2G. In such a system, plug-in hybrids, rather than being merely an extra burden to the grid, become a much needed way for grid managers to balance the amount of energy generated at any given time to match the amount of energy being consumed.
As an added benefit, "if millions of these plug-in hybrids were produced, it would enable some of the renewable technologies to really take off," say Terry Penney, a technology manager for advanced vehicle technologies at NREL."
3) New Zealand Herald: "Plug-in Cars Take Pole Position"(though wed prefer the headline: "NZ Shames OZ with Plugged-in Vision").
Excerpt:
"Cars running on "plug-in" electricity or biofuel blends are being touted by the Government as prime ingredients in a recipe for cleaner air and lighter oil bills....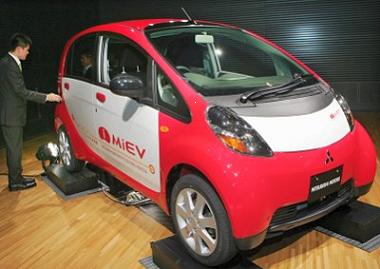 Energy Minister David Parker is looking forward to the production in Japan next year of a trial fleet of Mitsubishi electric "i-cars", which have already been demonstrated as capable of reaching speeds of 130km/h and which have a cruising distance of 160km off a single battery charge from a standard home socket."
4) Book: "Plug-in hybrids: the cars that will recharge America" by Sherry Boschert.
Excerpt:
"Plug-in Hybrids cautions that the oil and auto companies know how to undermine the success of plug-in car programs to protect their interests. The book gives readers tools to ensure that plug-in hybrids get to market - and stay here."
Although the books message is clearly even more applicable to pure battery EVs than to plug-ins - lets not forget that no major car manufacturer has yet pledged(citing a year) to bring plugin-able cars of any description to Britain or to the rest of the EU. So we have to remain vigilant and keep up the pressure this side of the pond - particularly if oil and gas(petrol) prices continue to be manipulated downwards in the States.
5) Stern Review on the Economics of Climate Change - and a Newsnight Newsflash!
Excerpt:
"Markets alone, however, may struggle to deliver more radical changes to transport technologies such as plug-in hybrids or other electrical vehicles. Alternative fuels (such as biofuel blends beyond 5-10%, electricity or hydrogen) may require new networks, the cost of which is unlikely to be met without incentives provided by public policy."
...which brings us seamlessly to that Newsnight Newsflash!
Is this a first for British TV? Sir Nicholas Stern utters the words "plug-in hybrid" on TV ! Sadly, neither we or the BBC have a precise transcript of this historic and momentous event - but heres what we jotted down at the time:
Paxman: So is there a technological solution to global warming?
Stern: Well in part....as petrol prices go up we will probably see plug-in hybrids..
- Music to all our ears of course - although the stakes, the price and the cost are surely already high enough, Sir Nicholas.
Of course government economics advisor Stern is simply echoing and updating what chief science advisor Sir David King began "advising" publicly more than four years ago(See EVUKs 2002 report "Chief Science Advisor Calls for Petrol Car Ban" ).
It is curious, though, that the crucial, make-or-break role of our all-powerful corporate media is so rarely mentioned in such reports. Especially given the fact that politicians will increasingly only act if a genuinely informed, concerned and, yes, even angry public demands action - and that in turn still largely depends, despite the internet, on the willingness of our mainstream media(especially TV and tabloid) to fully inform the public, and to assist in exerting pressure on politicians and in keeping an issue firmly on the radar.
The fundamental problem here of course is that while our corporate media is only too keen to focus and campaign on such relatively non-urgent issues as *posh nosh in schools, when it comes to the challenge of getting fume-free, efficient electric-drive vehicles onto our streets commercial/corporate self-interest always seems to get in the way: selling the status quo is what the carmakers want and its usually what they get from the media - not least from the BBC.
*POSH - Port Out, Starboard Home:
"Captain! Captain! Were about to hit that darned iceberg and the first-class passengers are demanding immediate action to improve the menu at lunch - what shall I do?
- Dont panic bosun! Go break open a fresh batch of Beluga - and serve it up with champagne - on ice! "
. Charge card and car charged - at Wal-Mart?
We are not alone in believing(see "Experts Forecast" below) that petrol/gas stations - especially at supermarkets - must and will inevitably EVolve into all-round "energy stations" - not just providing fuel in every blend, colour and flavour - but also generating their own green, grid-interactive electricity(and ideally heat) that can be used to fast-charge EVs and plug-ins, with any surplus being sold back to the grid and/or to local homes and businesses.
So come on Wal-Mart, Asda, Tesco: just think of all that carbon credit, green PR and value-added customer loyalty! Priceless, surely? Oil independence, grid independence, freedom from fossil fuel: its not just the environmental solution - its the patriotic solution.
And although many dyed-in-the-wool Greens may be painfully conflicted by the whole idea, lets not deny the fact that supermarkets possess the kind of purchasing power thats needed to help bring down the cost of decentralized clean micropower/microgeneration for the rest of us.
(See "Battelle Experts Forecast Top 10 Energy Innovations" )
. Smart ForFour plug-in hybrid - Q&A
Although Stephen Ladyman, the UKs Minister of State for Transport was on hand when Zytek presented its cost-cutting and compact plug-in hybrid powertrain(Smart ForFour) in December(see Ultra Low Carbon Car Challenge press seminar), we can still find no instance of a British or EU politician(Nicholas Stern is not a politician - but an economics advisor) actually uttering the words "plug-in hybrid" on record.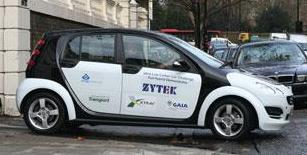 Smart ForFour plug-in hybrid - up to 20 mile range and 45 mph in EV mode.

We naturally had a few non-FAQ points to probe regarding the Forfours unique plug-in drivetrain and Zyteks Steve Tremble was good enough to respond to most of them.
EVUK - Zytek Q&A:
EVUK: Whilst India and China seem to have few problems actually mass-producing electric cars for consumers(sometimes illicitly - see price-slashing Chinese Smart Fortwo) - technology, performance and design still generally leave a lot to be desired.
Here in the West of course the opposite is true: companies like Zytek have long been producing superb demo electric (and hybrid) vehicles, yet so far consumers - the public at large - have never been able to purchase or lease cars incorporating Zytek electric powertrains.
So this seems to beg the question: would Zytek be open to partnerships from India, China/Asia ie. countries whose principle strength or forte is precisely what we still so sorely lack here in the West - namely low-cost production capability plus the will and wherewithal to actually bring EV technologies rapidly to market?
Steve Tremble: Zytek are open to discussions with any potential partner from any continent to discuss the further development/production of our EV/HEV technology.
EVUK: ..our second question concerns Lithium batteries and ZEV mode range. Would it be reasonable to assume that greater ZEV mode battery range could be achieved as new generations of Li-ion batteries come on stream? Also: Is there any possibility that Zytek might at some point consider trialling fast-charge Li-ion cells like Altairs Nanosafe and A123Systems Li-ion cells ?
Steve Tremble: While it is correct that greater ZEV mode battery range could be achieved as new generations of Li-ion batteries come on stream - we are currently restricted by the energy available from the amount of cells we can package in a C class car and the EST's directive as part of ULCCC rules that the boot space should remain largely unaffected by the HEV conversion.
That said, Zytek are constantly discussing new technology with battery manufacturers and supercap suppliers to ensure we keep abreast of all new technologies.
(End EVUK : Zytek Q&A Jan '07)
. . Green Tomato taxis - whatever happened to those plug-in plans?
Well, five silent months had passed since this ahead-of-the-curve West London-based company made its plug-in announcement(see July 2006 EVUK report "Plug-in taxis head for London") so we decided it was time for a New Year's update. And Green Tomato co-founder Tom Pakenham had good news for us:
Tom Pakenham: "Our plug-in plans are very much on-track. Indeed, it's happening as we speak. We are very excited about bringing the new technology onto the fleet."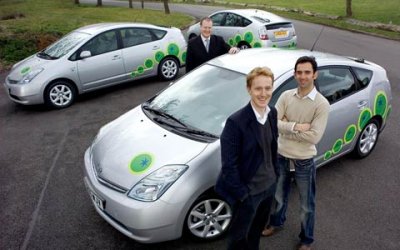 Its official: worlds first plug-in(able) "Green Tomato" is just around the corner...

Thanks Tom. We suspect that many people will be contacting the company just for a test-ride(where else could you take a trip to the future for less than a tenner?)....
...and green sheen-seeking politicians should - theoretically at least - be as keen as mustard to take a 'Green Tomato' for a spin...
Postscript(..5 days after the above EVUK piece was posted): George Bush mentions plug-in vehicles(thats "vee-HICK-les" !) in State of the Union address.
December, 2006
Park and Power: a shameless plug for a new EVUK sponsor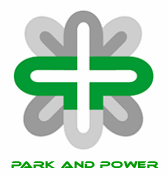 .. But we could hardly wish for a more ethical or relEVant sponsor or advertiser - this is about as green as it gets:
Introducing Park and Power - a far-sighted UK startup and a much-needed new kid on the block.
Definitely right up our street - though maybe not yet literally.
Thanks guys - and more power to you!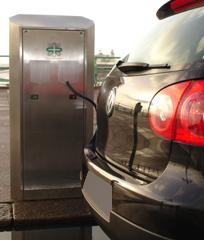 "The Park and Power system has been designed to meet the dynamic recharging needs of electric transport.
Electric transport needs a safe and sustainable infrastructure to ensure its integration is accessible and simple for all to use. The Park and Power solution delivers this in a convenient, well tried and tested format.
Users of electric transport simply Park and Power their vehicles at any Park and Power point. Simple, cost effective and easy."
December, 2006
New TV channel(UK/Europe/Int) shows Zooop EV 480 times a day(no really!)
(Also: Watch Zooop zip round Paris in extended video clip - courtesy Edmunds.com)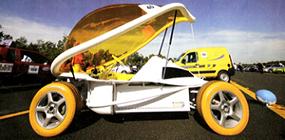 The 115 mph, 280 miles/charge, Tzero-derived Zooop snubs its nose at convention: will France 24 TV do likewise..?
For the past month the upcoming and long-awaited(by us at least...) and scarcely reported English-language version of 24 hour News(plus interactive Analysis/Debate) channel
France 24 TV (click here for short launch video) has been running a 3-minute, endless-loop trailer around the clock(on Astra and Hotbird satellites) which includes brief drive-by footage of the high-performance long-range(115 mph, 280 miles/charge) bright orange Zooop - which was commissioned by French fashion house Courrèges, and, like the Tesla Roadster and Venturi Fetish, is a direct descendant of the AC Propulsion TZero.
Here's an excerpt from said France 24 TV trailer:
"Future trends...environment....France 24 Questions, Confronts, Testifies and Analyses...
France 24 covers the news on every continent."
It is really hard to overstate the significance of this (promised) radical departure from the TV norm: the station's pre-launch message, at least, is unambiguous and bullish both in word and picture: groundbreaking environmental innovation - even if it runs on four wheels without an Internal Combustion Engine - will allegedly be reported on without compromise.
A little French revision - an aide-memoire if you will - for those who need it...
It's now sixteen months since we described France as being "at the very epicentre of of Europe's green "Axis of EVol-ution" - and just over six months since tireless(sorry!) corporate EV campaigner Edouard Michelin(billionaire Michelin boss and driving force behind the Challenge Bibendum) died in a mysterious fair-weather fishing "accident" along with fellow angler Guillaume Normant...(See EVUK report "In Memoriam: Edouard Michelin")


Click to watch video of Zooop in action on Paris streets at Michelin Challenge Bibendum 2006(courtesy Edmunds.com - not France 24 TV)
Well, wed like to believe that France 24 TV will revive, resuscitate and magnify Michelin's near-heroic legacy with that unique oxygen of international publicity that only television can provide.
Ultimately though it will be up to all of us/you the public to ensure that this new TV station delivers on its distinctive, almost radical-sounding "manifesto" and that it sustains it's EV/eco-commitment post-launch ie. as corporate sponsors and their political accomplices begin to actively or passively influence content - or lack thereof.
France 24 TV - Homepage.
Launch date: 6 December on web - next day on TV. Free-to-view on Astra, Hotbird...and yes, if you really have no other option..on SKY)
Post-launch postscript(Dec 8):
Oh dear! Just hours after we posted up the above piece, France 24 TV switched to a new trailer for the final 48 hour countdown - this time minus the Zooop.
But we can't complain - after all the designer EV did get a record-breaking(surely!) innings: 13,900 EV TV appearances in 29 days! Sadly though, 99.99% of viewers will have been totally unaware that the bright flash of orange tearing towards - then past - camera was an electric vehicle - let alone a 115 mph , 280 miles/charge very close relative of the Tesla Roadster and TZero.
As for France 24 TV itself - the English-language version, at least, has so far proved painfully middle-of-the-road, excruciatingly corporate and suffocatingly safe.
All in all très déjà vu all over again.
Unsurprisingly, the very first ad to be aired was for a 15-25% energy-efficient(well-to-wheel) piston-powered car - though that minor detail was not mentioned in the ad's voice-over or strapline...
Clearly the stations airing of the Zooop on endless looop was more fashion statement than green EV-angelism.
November, 2006
Phoenix SUV & SUT: 'One Nano Step for Man - One Giant Leap for Mankind '
(Click SUV/SUT images below for video clips)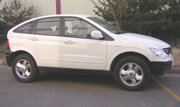 Click image for Popular Mechanics video presentation at SEMA 2006 in Las Vegas
EV history is repeating itself(for the nth time) as our "don't ask, don't tell" corporate media collectively ignores these myth-busting, rapid-charge Phoenix Motorcars' Altair Nanosafe / UQM-drive vehicles as resolutely as they ignored the Toyota RAV4 EV(see column left): despite our best efforts thus far, we have yet again so far heard not a solitary squeak about Nanosafe EV's, SUV's or SUTrucks - from the BBC, the Times, the Guardian, the Independent, New Scientist, Bild der Wissenchaft, and - perhaps most conspicuously of all - from German TV's daily Sci/Tech/Innovation show...which after all is actually called "Nano" !(Sorry guys - but with a name like that there can be na-no excuses - keine Ausreden - whatsoever!)
Given that all of these media outlets are now giving unprecedented and ever-so concerned coverage to the potentially catastrophic effects of climate change whilst dedicating almost unlimited air-time and news space to no end of frivolous and/or arcane trivia, it is extraordinary that they nevertheless continue to collectively shy away from reporting battery EV advances of this ground-breaking, "giant-leap" order of magnitude.
But then again, if everyone from, say, Mr. 'Beyond Petroleum' Lord Browne to....Mr. 'Beyond Blair' Gordon Brown see no reason at all why the British public should be the slightest bit interested in high-performance(95 mph), super-efficient, normal-looking electric vehicles that cost next-to-nothing to run and to maintain - well, who the bl**dy he** are we to doubt the green credibility and credentials of so many like-minded and exalted leaders amongst men-in-suits ?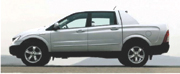 Click image to watch Ed Begley driving and reviewing Phoenix Nanosafe Truck. Click here to watch Altair's own Begley clip
Savage sarcasm aside - it is gratifying and not at all surprising to see that, on the other side of the pond, Hollywood actor and tireless eco/EV activist Ed Begley Jr. has been out on the EV campaign trail(at SEMA, Las Vegas to be precise) whipping up support for Phoenix's Nanosafe-powered SUV and SUT(Watch Begley / Phoenix Nanosafe video).
Long-suffering EVUK'ers will recall that it was Ed who took our own Moira Govan for a spin in his GM EV1 in Los Angeles

way back in 1998